Send E-mail to SMS from Gmail or any E-mail Client
With WinSMS it is quick and easy to send SMS messages from e-mail without having to install any software. All you need to do is register an account with WinSMS and enable email authentication in your profile.
Registration is free and you will receive some test credits so you can try it out. The test credits can only be sent to the registered cellphone number in the WinSMS account. Thereafter you will need to purchase credits in order to send to other cellphone numbers, and continue using WinSMS.
Click here to register and try it out now!
Once you have registered and enabled the email to SMS authentication option in your profile, you'll be able to send SMS messages from any e-mail software just by addressing the e-mail to cellnumber@winsms.net like in the example below.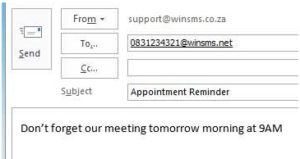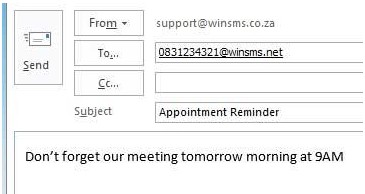 When people reply to your messages you will receive that reply as an email.
If you are using Microsoft Outlook 2007 or 2010 you can configure the Microsoft Outlook Mobile Service to work directly with WinSMS –  click here for detailed instructions.
If you have any questions or need any assistance setting up your account, please contact support here or give us a call during office hours on 0861WINSMS (0861946767).
Click here now to register so you can start sending SMS via E-mail today!