Send E-Mail to SMS from Gmail or any E-Mail client

With WinSMS it is quick and easy to send SMS messages from e-mail without having to install any software. All you need to do is register an account with WinSMS and enable e-mail to SMS in your profile.
Registration is free and you will receive some test credits so you can try it out.
Once you have registered and enabled the e-mail to SMS option in your profile, you'll be able to send SMS messages from any e-mail software just by addressing the e-mail to cellnumber@winsms.net like in the example below.
Vanessa Van Der Mescht
2023-11-23
always easy to use
Always been available to help and on line services great thank you Secretary Louise Harris at St Giles Presbyterian Church
Michelle Coyle
2023-11-15
Top-notch, customer-friendly enterprise. The software is extremely user-friendly. Delighted to have been utilizing their services for several years and anticipate doing so for many more.
We have been using Winsms for over 10 years. No complaints no issues. Service has always been top notch and never had any difficulties with the messaging service.
Daniel J Bruwer
2023-11-08
Efficient. Do what they say. Get a quick phone call if it looks as if I am battling with payments
Felice Massaro
2023-11-03
Great service. Easy to use and affordable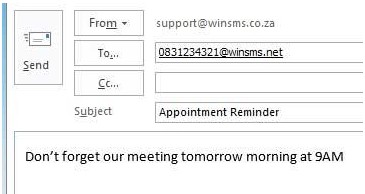 When people reply to your messages you will receive that reply as an email.
You can also configure your WinSMS account to forward those replies to your mobile number for quick and easy reference.
If you have any questions or need any assistance setting up your account, please contact support here or give us a call during office hours on 0861WINSMS (0861946767).
Click the button to register so you can start sending SMS via E-mail today!