Microsoft Outlook Mobile Service
Outlook Mobile (SMS) Service for Microsoft Outlook 2007/2010
With the WinSMS Outlook Mobile Service and Microsoft's Outlook 2007 and 2010 versions, it is now as easy to send and receive SMS messages as it is to send and receive email, and you don't need to install any software!
Please note that Microsoft has discontinued and removed the Outlook Mobile Service in Outlook 2013 and later.
If you are using a version of Outlook that no longer supports OMS, simply use the WinSMS Email to SMS gateway.
The Outlook Mobile Service makes it really easy to set up SMS alerts for all your Outlook reminders and calendar appointments, as well as SMS notifications when you receive certain emails identified by one or more rules.
Once you have added the Outlook Mobile Service Account, all you need to do is click on New and choose Text Message…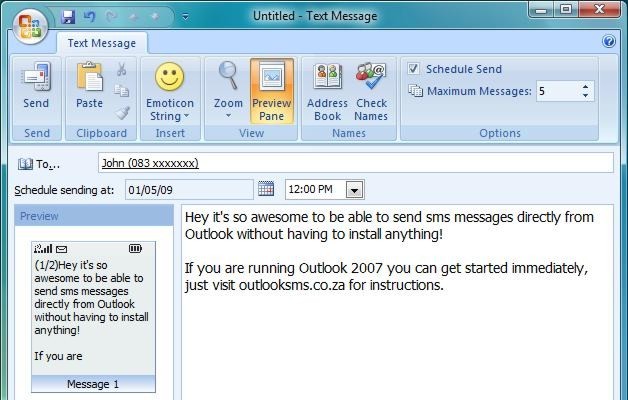 Alerts & Reminders
Setting up SMS alerts and reminders is straightforward in Outlook: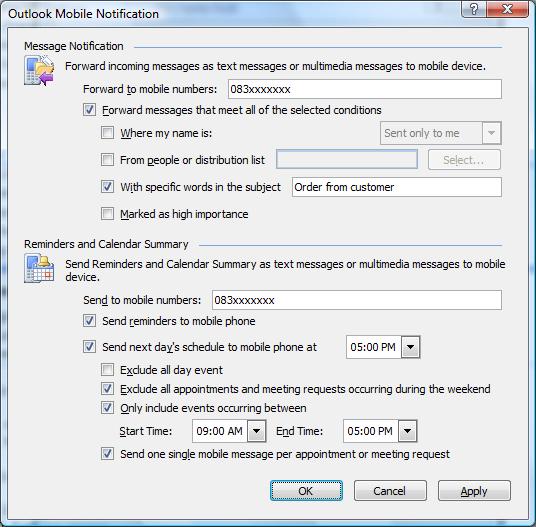 Outlook Mobile Notification Options

Message Notification:
Forward incoming messages as text messages to one or more cell numbers.
Specify various conditions or rules to use.
Reminders and Calendar Alerts:
Send Reminders and Calendar Summary to your cell phone.
Send next day's schedule to your mobile at the end of every day.
Send appointment or meeting requests to your mobile.
How to Configure the Outlook Mobile Service

For Outlook 2007 go here for detailed instructions.
For Outlook 2010 go here for detailed instructions.
If you need any assistance setting up or using OMS please contact us here or give us a call on 0861WINSMS (0861946767) during office hours.