SMS for Schools – A Quick and Easy Way to Notify Staff, Parents and Pupils
Do you remember giving a letter to your parents from the school? How long it took for the message to get across? Vital information was lost over the years due to messages not being delivered, until SMS for schools came along and made communication a whole lot easier. Now, as a staff member at a school, you are able to contact parents and other staff members instantly, and cost-efficiently.
Let's dig in to a few ways how SMS for schools are being used:
Cancellations – Make sure parents know that the game after school has been cancelled because of the rain. An unanswered phone call does not get the message across, and takes 10 times the time to make, whilst an SMS will let your contacts know about the cancellation right away.
Event Reminders – Remind parents about events happening after school. A simple reminder will make sure your events are well attended.
Staff Meetings – Let your staff know if impromptu meetings. With instant delivery, and a 99% open rate, your SMS is bound to be read in no time.
There are many ways how SMS have been used by schools to get a valuable message to either a staff member or parent/pupil. It is a modern way of making sure that every member of your school is in the loop of all events and changes to your school. With the desktop and online applications, SMS for schools is a simple task to do with easy contact management, and quick reading of responses from recipients.
Ready to give it a try?
Click the button below to sign up for a no obligation trial account which includes 10 free credits to test with.
Once registered, download and install the Bulk SMS Software for Schools shown below and immediately start sending.
If you need any help along the way just contact us here and we will be happy to take you through the process step-by-step.
Special Discount For Schools

10% discount for all schools – once you have registered just contact us for details on how to apply.
Bulk SMS Software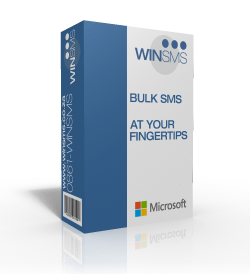 The WinSMS desktop software enables you to quickly and easily send SMS messages to individual contacts or groups containing thousands of contacts. This brings the power of being able to reach staff and customers alike within seconds, right to your desktop!
Features include long messages up to 918 characters, scheduled and repeat messaging, online address book synchronisation, importing of contacts from Outlook or CSV files, message templates, custom fields, merge fields, shared address books and much more. Use WinSMS to schedule meeting reminders, product launches, monthly specials and more.
You can download our bulk SMS software now and immediately try it out with a test credits that are added to your account when you register. If you don't have an account with WinSMS yet, simply go here to sign up at no cost or obligation.
Start Connecting
For windows PCs download the WinSMS software here
To upgrade an existing installation of WinSMS, open the software then click on "Help" and choose "Check for new version". To download and install a new installation click on the "Download" button above.