BULK SMS SOUTH AFRICA TEXT MESSAGING SERVICES
Empower Your Business with Cost-Effective Messaging Solutions for Enhanced Customer Service and Loyalty.
Experience the Simplicity and Impact of Bulk SMS Today!
Vanessa Van Der Mescht
2023-11-23
always easy to use
Always been available to help and on line services great thank you Secretary Louise Harris at St Giles Presbyterian Church
Michelle Coyle
2023-11-15
Top-notch, customer-friendly enterprise. The software is extremely user-friendly. Delighted to have been utilizing their services for several years and anticipate doing so for many more.
We have been using Winsms for over 10 years. No complaints no issues. Service has always been top notch and never had any difficulties with the messaging service.
Daniel J Bruwer
2023-11-08
Efficient. Do what they say. Get a quick phone call if it looks as if I am battling with payments
Felice Massaro
2023-11-03
Great service. Easy to use and affordable
Increased ROI
SMS text messaging services are increasingly becoming an essential part of an effective multi-channel marketing strategy that delivers consistent ROI.
Fast and Reliable
Our SMS messaging platform uses bulk SMS software that allows you to reach thousands of people within seconds, wherever they are.
Customer Engagements
Using our online SMS sender app to inform your customers of promotions and company news is another great way to engage with your customers and build customer loyalty.
Personal and Direct
Personalised bulk SMS text messaging is the most effective marketing channel available today, with a read-rate of 97% within 15 minutes of delivery.
Two-way Communication
We are one of the bulk SMS providers that can support replies to your SMS messages, routed to your SMS in-box, cell phone or e-mail allowing you to respond timeously to customer requests and confirmations.
Save up to 80%
If you use SMS text messaging services to communicate with your staff and customers instead of calling them on their cell phones, you can save thousands every month!
Our SMS Portal messaging platform gives you the ability to reach thousands of people within seconds!
What some of our clients have to say…
"You opitimize customer centricity and are simply a click away. I have had the pleasure of using your services for 3 years now. I will not use another's. Well done Team"
"It doesn't get much better than this. Sent a query and Evan phoned me within 10 mins and sorted out my question in 3 minutes. Well done and thank you guys!"
"Thank you for your consistent professionalism – even with problems that you listed in detail. My experience with your company has been proof that there is companies that give over 100% in a world saturated with mediocrity."
Take action now and immediately start benefiting from Bulk SMS – a powerful marketing and communication tool for your business!
How Sending Bulk SMS Works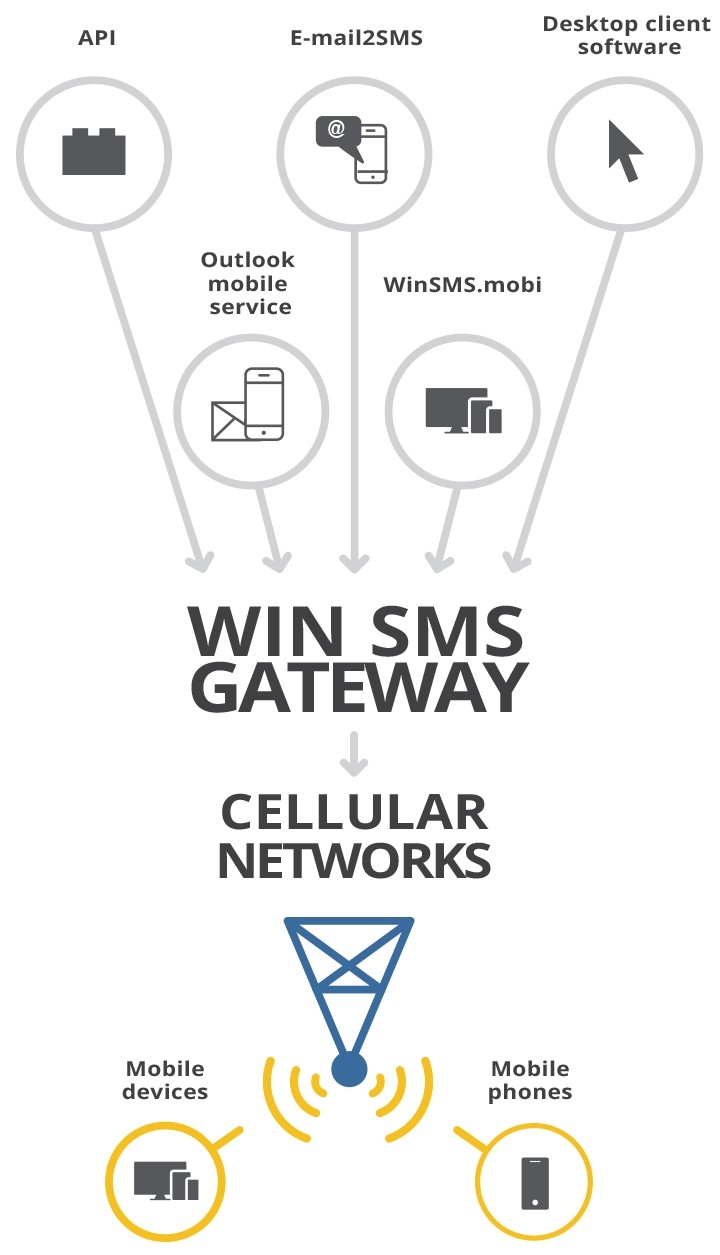 Try One Of These Bulk SMS Products Today
10 Strategies for Business Growth Using Bulk SMS Messaging
In today's fast-paced business environment, staying connected with your customers is crucial. Bulk SMS messaging emerges as a powerful tool in this context, offering a direct and efficient way to communicate with a broad audience.
Here's how leveraging bulk SMS messaging can elevate your business:
Expanding Your Reach: Utilise bulk SMS to swiftly connect with a vast audience, encompassing clients, staff, and potential leads.
Customised Communication: Enhance customer engagement and foster stronger relationships by sending tailored messages to each recipient.
Elevating Customer Support: Employ bulk SMS for prompt responses to customer queries, thereby enhancing service quality and boosting satisfaction.
Boosting Sales: Utilise SMS campaigns to highlight promotions and discounts, driving sales and increasing revenue.
Enhancing Web Traffic: Direct more visitors to your website through SMS links, thereby augmenting lead generation and online presence.
Streamlining Operations: Implement SMS technology to automate routine communications, saving valuable time and resources.
Timely Reminders and Alerts: Keep your customers informed and engaged with regular updates and important notifications via SMS.
Building Brand Recognition: Use SMS messaging to promote your brand identity, helping to attract new customers and retain existing ones.
Lead Generation: Engage potential customers with valuable information through SMS, effectively generating new leads.
Tracking Success: Monitor and analyse the effectiveness of your SMS campaigns to refine strategies and improve outcomes.
Bulk SMS messaging stands out as a cost-effective and impactful way to reach out to a wide audience swiftly. It's a versatile tool that can significantly enhance sales, drive website traffic, improve customer service, and much more.
Explore our range of bulk SMS products designed to help you implement a successful SMS messaging strategy, ultimately contributing to your business growth and profit enhancement.
More About Bulk SMS in South Africa
We are one of the leading bulk SMS providers. We offer an easy to use, cost effective SMS messaging platform, an SMS portal for South Africa and beyond, and supporting software and development that makes our SMS text messaging services a must-have tool for your mass communication toolkit. Whether you sign up for our online SMS sender so you can access our SMS portal from any device, or link your mailbox so can use our E-mail to SMS text messaging services, we're the only bulk SMS providers you'll ever need.
Bulk SMS in South Africa and other African countries is one of the most effective ways to reach customers in every LSM bracket. Everyone has a cell phone, but smart phone penetration is not as high as in more developed countries. This makes SMS text messaging services a crucial part of any communications strategy, because everyone can receive an SMS, but not everyone can receive IMs or E-mail. Use our SMS messaging platform to reach your customers wherever they are.
Bulk SMS in South Africa is also a great way to communicate with employees, who are more likely to open and read a SMS text message than a company bulk E-mail. Our online SMS sender makes internal company communications so much easier because you can access our SMS portal anytime, from any device.
Our bulk SMS messaging platform helps your message land, no matter who you're trying to talk to. Bulk SMS in South Africa has never been so simple and easy to use. Our SMS messaging platform supports all major cell networks in South Africa. We provide the highest level of support to our SMS messaging platform customers and pride ourselves on being a leading bulk SMS provider in South Africa. Try our online SMS sender today and see the power of bulk SMS text messaging services in action!